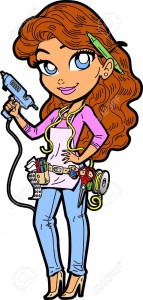 Do you have a love of crafting?  Would you enjoy an evening of creativity, fun and fellowship?  Then plan to join the ladies of Wilson Wright Circle #1 on the third Tuesday of the month (September – May) at 7:00 pm in the church social hall. The circle members are hard at work preparing items to sell at the Fall Craft Fair. Proceeds will go to support mission projects. All women are invited to join us for an evening of fun, fellowship and service.
This past year the circle made donations to Food Resources, Holly Place and the Board of Child Care.  The circle also supported the REACH Cold Weather Shelter for the homeless by providing a meal during the month of March.
Contact Chairperson Deb Markell if you have any questions. It's always fun, so plan to join us!
Read about The Remarkable Life of Wilson Wright.
Return to the Learning and Growing page