From earth's wide bounds, from ocean's farthest coast,
through gates of pearl streams in the countless host,
singing to Father, Son, and Holy Ghost:
Alleluia, Alleluia!
November 1 is one of my favorite liturgical days of the year: All Saints' Day. As United Methodists, we don't venerate saints in the same way Roman Catholic or other Christians do. John Wesley cautioned people against holding saints in too high a regard, instead encouraging Christians to give thanks for all of our ancestors in the faith. This includes those we've never met (people like Peter, Paul, Lydia, and Mary) and those we've known (perhaps parents or grandparents, or those who have been a part of our congregations). On All Saints' Day especially, we give thanks for those whose light has shined, whose love has warmed our hearts, and who have helped us grow in our faith.
While it can be a day of sadness as we remember loved ones we have lost, All Saints' Day is also a day of thanksgiving and celebration for those who no longer "feebly struggle" as we do. We light candles as a sign of their light in our midst, and we join our voices with the heavenly chorus as we worship together the God who is our fortress, rock, and might. It's a day of joy for the love of God we have known through so many faithful saints throughout our lives and throughout the history of our faith.
One of my favorite images of All Saints' Day is a painting by John August Swanson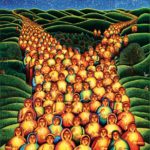 called "Festival of Lights." In it, the countless host is coming together, each holding a candle that illumines their face. The stars light up the sky, and somehow the painting captures both the solemnity and the joy of All Saints' Day. It's worth doing a Google search to find in color – the candles seem to glow brightly and the night sky almost glitters. The painting captures beautifully what I feel on All Saints' Day: deep gratitude for those who have gone before, and shining hope that we will all someday join with them in the Church Triumphant.
This month, as we get ready for our All Saints' Day celebration on Sunday, November 3, let us remember with gratitude all those who have shined their light of faith in the world. And let us do our part to shine our little lights, too.
Grace and peace to you,
Your Pastor,
Katie O'Hern Hamilton