Here is the recording of our most recent worship service…
October 2
"Our Humble Calling"
     The gospel reading for this Sunday (Luke 17:5-10) is another one of those readings that makes people scratch their heads and say something like this – "Huh? Are you serious, Jesus?"
Suppose, says the Lord, that you have a hard working servant who is getting ready to finish their daily work. Will you thank the servant for doing his job?
Contemporary management books and theory (such as The One Minute Manager, Blanchard and Johnson)) strongly encourage the use of praise and recognition to encourage workers to do their best. After all, most if not all of us respond to positive reinforcement and encouragement.
In the hypothetical question posed by Jesus ("Will you thank the servant because he did what he was supposed to do?"  Lk. 17:10) the implied answer is "No". To make His point very clear, Jesus tells those listening to Him that "you also, when you have done everything you were told to do, should say, 'We are unworthy servants; we have only done our duty'."
Wow!   Talk about using a tough management style . . .
Join us this week as we ponder the meaning of Jesus' words as He challenges us to consider
"Our Humble Calling".
Pat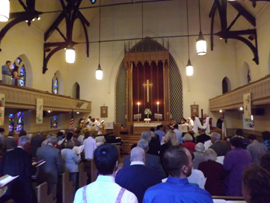 Our family invites your family to join us
on Sunday mornings as we worship our Risen Savior!  
 Pastor: 

Rev. Patrick Ricker


   
  Director of Music/Organist
                    Stephen Pompa
                  
                Sunday Schedule:
                 Sunday School 9:00 a.m.
                 Coffee Fellowship 10:00 a.m.
                 Worship 10:30 a.m. 

Address: 


129 N Potomac St.
Hagerstown, MD





                 Phone: 301-733-0391
                 Fax: 301-790-1515





               Send us E-Mail at 


            jwumcmd@yahoo.com

or visit us on Facebook