MUMMERS' PARADE SEATS ARE NOW AVAILABLE!
CLICK HERE FOR MORE INFORMATION
Here is the recording of our most recent worship service…
<
October 16
Laity Sunday
"How Do You Take God's Love Into the World?"
Jeremiah 31:27-34
2 Timothy 3:14-4:5
This Sunday, 10/16/16, is designated as Laity Sunday by the United Methodist Church. I am truly blessed with a solid group of lay persons in leadership positions who are being inspired by the Holy Spirit. I sense that we here at our church are opening our eyes to the challenges that surround us and the need to ask for God's wisdom to guide us.
Our Laity Day worship team, led by Ed Whitt, will be developing this year's theme of "Living Vital Worship." Worship is one of those words that means different things to different people. For some people worship is something we do in church on Sunday. For others it might be an attitude we assume when we sense God's presence. And for others worship is a set of behaviors we show when we feel grateful for something the Lord has done for us.
Brother Ed has invited three of our church members, Sherry F., Stephanie S. and Barbara D., to respond to a question as a basis for sharing their beliefs about "Living Vital Worship." The question which Ed formulated is "How do you take God's love into the world?".
I was thrilled to see this question, for it provides a barometer which we can use to gauge the effectiveness of our worship life together. Just by coincidence (or is it the presence of the Holy Spirit?) my wife Lauri shared a quote which she recently found in her spiritual reading time that touches on this very timely topic:
Don't ask yourself what the world needs. Ask yourself what makes you come alive, and go do that, because what the world needs is people who have come alive.
Is our worship enabling us to be touched by the Spirit of God? Are we receiving Christ into our hearts and taking Him into our daily lives? Is this what it means to be "Living Vital Worship"?
Join us this Laity Sunday and experience a worship service led by a group of active and dynamic lay people as together, we share the love and hope that Jesus brings to us!
Pat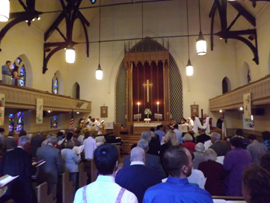 Our family invites your family to join us
on Sunday mornings as we worship our Risen Savior!  
 Pastor: 

Rev. Patrick Ricker


   
  Director of Music/Organist
                    Stephen Pompa
                  
                Sunday Schedule:
                 Sunday School 9:00 a.m.
                 Coffee Fellowship 10:00 a.m.
                 Worship 10:30 a.m. 

Address: 


129 N Potomac St.
Hagerstown, MD





                 Phone: 301-733-0391
                 Fax: 301-790-1515





               Send us E-Mail at 


            jwumcmd@yahoo.com

or visit us on Facebook