Here is the recording of our most recent worship service…
 April 30, 2017
"Lessons Along the Road"
 Luke 24:13-35
The Gospel reading for this Sunday is another account of the story known as "the road to Emmaus." The reading this week involves Luke's recording of Jesus' mysterious appearance to two of the early followers. Last week Greg Hoover gave a witness to a story as recorded in the Gospel of John regarding too early appearances of Jesus to his disciples. Each of these three appearances focused on the men who had followed Jesus and the struggles they had in accepting his resurrection. Three of the prominent women (Mary Magdalene, Joanna and Mary the mother of Jesus) had reported seeing the Risen Christ to the disciples "but they did not believe the women because … their words seemed to them like nonsense." (Luke 24:11)
This week I am taking the approach that the "road to Emmaus" is a road with valuable lessons for our daily lives. I will be dealing with three lessons by posing three questions.
Question #1 – Why do we often miss what is right in front of our face? We may have an experience and then later ask ourselves, "How could we have missed what was really going on?"
Question #2 – How can I deal with the pain and hurt that I feel when someone disappears from my sight, perhaps through a tragic life-changing illness or through death?
Question #3 – If I have what I think is a deeply spiritual experience, perhaps sensing the presence of God in Christ who may be seeking to direct my life, how can I assess whether this is a real experience and not just a figment of my own imagination?
Join us this Sunday as we once again walk with those two disciples along the road to Emmaus with these three questions in mind. Perhaps some of our mental and spiritual struggles can be lessened as we can gain insight from their experience with Christ.
Rev. Pat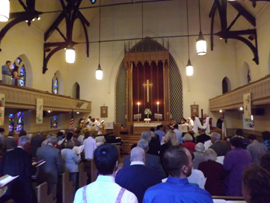 Our family invites your family to join us
on Sunday mornings as we worship our Risen Savior!  
 Pastor: 

Rev. Patrick Ricker


   
  Director of Music/Organist
                    Stephen Pompa
                  
                Sunday Schedule:
                 Sunday School 9:00 a.m.
                 Coffee Fellowship 10:00 a.m.
                 Worship 10:30 a.m. 

Address: 


129 N Potomac St.
Hagerstown, MD





                 Phone: 301-733-0391
                 Fax: 301-790-1515





               Send us E-Mail at 


            jwumcmd@yahoo.com

or visit us on Facebook