Here is the recording of our most recent worship service…
August 21
"An Old Fashioned Hymn Sing"
Psalm 150
Colossians 3:12-17
"He Who Sings Prays Twice"
(St. Augustine of Hippo)
There's something about singing that's almost, shall I say, magical. Singing gives much more emotion to words than simply reading the words. Singing involves creating different vibrations with our vocal cords, it involves high tones and low tones, ebbs and flows in volume.
When the Bible states that God created by His Word, I firmly believe that the Creator did not simply "say" the Word – God "sang" the words and created a song of creation which is still being sung even to this day!
Our Methodist heritage is one of singing. The hymns of Charles Wesley number well over 5,000. Our ancestors were a singing and a praying church. And, as St. Augustine says, those who sing pray twice!
We would like to invite you to our annual hymn-sing service on Sunday, August 21 at 10:00 a.m. Some of the hymns will be pre-chosen and other hymns will be dependent on you and your favorite choices! Join us for a fun and meaningful time of singing and prayer as we keep the Creator's song of life and love alive!
Rev. Pat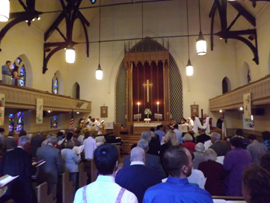 Our family invites your family to join us
on Sunday mornings as we worship our Risen Savior!  
 Pastor: 

Rev. Patrick Ricker


   
  Director of Music/Organist
                    Stephen Pompa
                  
                Sunday Schedule:
                 Sunday School 9:00 a.m.
                 
                 Worship 10:00 a.m. 

Address: 


129 N Potomac St.
Hagerstown, MD





                 Phone: 301-733-0391
                 Fax: 301-790-1515





               Send us E-Mail at 


            jwumcmd@yahoo.com

or visit us on Facebook