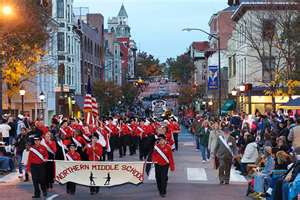 2021 SEAT TICKETS GO ON SALE OCTOBER 1!
Call 301-733-0391
John Wesley UMC offers the BEST place in town to watch the Annual Alsatia Mummers' Parade. You'll have a great view of all the bands, floats, classic cars and mummers as they come down the hill on North Potomac Street. We'll keep you warm and fed with hot chocolate, soda, soups, burgers, hot dogs, candy and more from our own concession stand. If it's a cold night you can step into our beautiful sanctuary and warm up. Plus you'll have access to those always important restroom facilities!   Tickets go on sale October 1st, so call early for the best selection!
Seats, which benefit our music department and youth activities, are still only $5 each! Click here to see our Seating Chart.  Call the church office at 301-733-0391 to reserve your spot.
Find out more about the Alsatia Club and the parade here.
 Return to the Events and Activities page.