You'll find more about the history of John Wesley UMC (formerly St. Paul's ME) here.
Look at our windows and read the stories behind our Stained Glass Windows.  
Download our Window brochure
The old  St. Paul's Church:
1776 – In July, Bishop Francis Asbury preached in Hagerstown.
1787 – In July, he again visited Hagerstown and preached Saturday afternoon and Sunday morning.
1794 – Hagerstown attached to Carlisle Circuit.
1812 – In August, Bishop Asbury records his visit to the "neat, new chapel at Hagerstown at which about one hundred hearers were present." This no doubt referred to the chapel used jointly by the Methodists and Brethren.
1812 – Hagerstown was attached to Chambersburg Circuit. This year services were held in the St. Paul's United Brethren Church, Corner of Franklin and Locust Streets. Arrangements were made by alternating the use of the Church.
1822 – Hagerstown was made head of a circuit.
1825 – Methodism had grown so that it needed a larger Church for itself and they built one on North Jonathan Street. This Church was paid for in two years.
1847 – The charter was issued incorporating the Church.
1886 – The old church was improved with a floor that made a lecture room below the auditorium.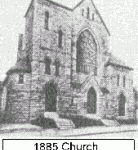 A New St. Paul's Church is built
During the pastorate of Dr. J. H. Dashiell, preparations were made for the erection of a new church. Upon the appointment of Dr. J. B. Stitt, the Quarterly Conference directed the Trustees to get an estimate of the cost. October 23, 1883, the present lot was bought and on December 15 ground was broken. Plans for the building were adopted by the Trustees and approved by the Congregation, May 11, 1884. Plans and specifications were prepared by Mr. Charles Carson of Baltimore, and a Baltimore builder, Mr. B. F. Bennett was the Contractor. This was signed June 1884, and fine progress was made under the supervision of Mr. S. L. Lamkin.
The Chapel was finished in April 1885 and services were held there until the dedication of the Sanctuary, November 22, 1885. The congregation numbered but 400 members and undertook a great burden for so few. The cost was slightly over $50,000.00.
As Hagerstown grew, Methodism kept pace. The western part of the town became well populated and our Church responded to the need that was felt. With a few devout workers, financial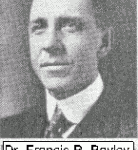 assistance and leadership, a work was started and developed rapidly; outgrew the small chapel, and now the congregation of Washington Square is a worthy child of her proud mother. Some years later the southern section claimed the help of St. Paul's and the congregation of Howard Street (Emmanuel UMC) stands as the babe of the still proud mother.
The entire indebtedness of St. Paul's was wiped out in 1912, under the pastorate of Dr. Charles L. Pate.  A number of improvements were made from time to time, consisting of two pipe organs, the present one, a Moller, purchased under Dr. F. R. Bayley.
During the pastorate of Dr. V. N. Ridgely, the new parsonage was built and the towers completed at a cost of somewhat over $28,000.00.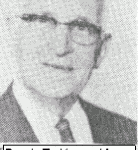 Under the pastorate of Rev. J. E. Kemp Horn in 1935, the sanctuary was redecorated, new lighting, new floor coverings, new wiring, new front steps making an entire change in the front of the church, which made our Church rank in beauty, second to none in the Baltimore Conference. The entire cost of these improvements were about $8,500.00 which, added to the mortgage and some insurance costs totaled about $14,000.00.  Because of the condition of the windows in the sanctuary, a program for their replacement by memorial windows was started by the placing of window No.3, by Miss Laura C. King, in memory of the King Family.  After the decease of Miss King, window No.8 was installed in her memory, with funds willed by her to St. Paul's Church.  On November 19, 1939, the Church was again free of debt and celebrated by the burning of the mortgage.  At this time was also unveiled a memorial window No.2, presented by Mr. Harry E. Brandt.
Under the pastorate of Rev. Harry C. Marsh, in 1942, a central heating plant was built on the rear of the lot.  This, with organ repairs and other improvements was accomplished by the expenditure of $14,000.00.  In 1945, a campaign was made to raise $25,000 for better Sunday School facilities; the result of this effort was $27,000 in cash and good subscriptions.  In the Spring of this same year the Sunday School rooms in the basement were completed.
In September 1947, Miss Lillian Glandon (later, Mrs. Ralph H. Marquart) became a member of the Staff as Director of Christian Education.
The One Hundredth Anniversary of the Charter of the Church was celebrated in 1947, at which time the Rose Window in the Sanctuary, a gift of Miss Emma K. Heironimus, and a Memorial Window, the gift of Mr. and Mrs. Ralph B. Wyand, in memory of Mrs. Wyand's mother, Mrs. Charles E. Lewis, were dedicated.  Subsequent windows were presented in memory of Virginia C. R. Wyand; Mr. and Mrs. J. H. Beachley; Samuel E. and Mary S. Bailey and Family; Mr. and Mrs. Harry E. Keedy and Mr. and Mrs. Albert D. Ruse; Mr. and Mrs. Ross Kountz and Dorothy Elizabeth; and honoring the children of Mr. and Mrs. Hubert Mullen.
However, Hagerstown felt the impact of population growth and in 1949, under the leadership of Rev. Norman L. Trott, plans were drawn for a new Sunday School Building, and a financial campaign for $75,000 was launched.
In 1950, Dr. J. Tumbull Spicknall became the pastor of the church.  At the same time the Korean War began, and it became impossible to obtain materials, thus work on the new building was delayed.  In 1951, a legacy of $18,000 was left the church by Mrs. Elizabeth Riegle Rowe.  A general purpose building, to be used by the Boy Scouts, the Girl Scouts and also to be used as a department of the Sunday School, was erected and was named ROWE HALL.  In 1954, the Official Board voted to proceed with the new Sunday School Building, to cost approximately $150,000.  Another financial campaign was conducted, and ground was broken for the new project on December 5, 1954.  The two-story building was completed in 1955, providing room for the Children's Division of the Sunday School, a Chapel, a Church Office, a Church School Office, a Parlor, and a Study for the Pastor.  It was the culmination of a dream of thirty years.  The entire indebtedness was liquidated in 1959.
In 1959 a set of Schulmerich "Carillonic Bells" was presented "To the Glory of God" by Edward A. Bailey, Katie G. Bailey, Lelo M. Bailey.
At the Conference of 1959, the Rev. Stanley G. Harrell was appointed as the first Assistant Minister to St. Paul's.
The latest dream of the leadership of St. Paul's was the completed restoration of the main church.  Under the pastorate of Dr. J. Tumbull Spicknall, the work was planned and the renovation was begun before his retirement in June, 1963.  The restoration included a new heating system, air conditioning, restoration of the windows, special lighting, rebuilding and additions to the organ, new chancel, pews, carpet, sacristy and remodeling of the narthex – this at a cost of approximately $129,000.00.
The church is renamed John Wesley United Methodist Church
In 1969 as the result of the merger of the Methodist and Evangelical United Brethren churches, the name of the church changed from St. Paul's to John Wesley United Methodist Church. The local church membership voted for this change on May 18.
In November, 1985, the 100th Anniversary of the present sanctuary and the 209th birthday of Methodism in Hagerstown was celebrated.
In the spring of 2013 the congregation started a major project of removal, repair and restoration of all ten side windows and the Rose Window.  All repair work was completed in time for  their re-dedication on September 15, 2013, Heritage Sunday.
* * * * * * * * * * * * * * * * * * * * * * * * * * * * * * * * * * * * * * * * * * * *
The following list of Ministers taken from "History of Methodism in Hagerstown" by Rev. A. M. Courtney, D.D., may be of interest:
"There were between 1773 and 1783, Francis Asbury, Robert Strawbridge, Abraham Whitworth, Joseph Yearly, George Shadford, Edward Drungoole, Richard Webster, R. Lindsay, Martin Rhodda, Richard Owings, John Wade, Jos. Hartley, John Littlejohn, William Gill, Jos. Cromwell, John Tannell, Thomas McClure, John Beck, William Waters, Thomas S. Chew, William Adams, Daniel Ruff, Freeborn Garrettson, Josua Dudley, Reuben Ellis, Thomas Haskins, Hugh Roberts, Alleghany Circuit (of which I assume Hagerstown to have been a part until 1794, though without any positive proof, it being possible that in this period it was attached to Frederick Circuit) from 1783 to 1794: Francis Poythresse, Benjamin Roberts, Wilson Lee, Thomas Jackson, Lemuel Green, John Paup, William J. Jessup, E. A. Thompson, Aquilla Edwards, Michael Leard, John Simmons, John Todd, Lewis Chastain, Jos. Thomas, John Hutt, Ceorge Wells, M. Hitt, Isaac Lansford, Daniel Hitt, Samuel Breeze, Thomas Boyd, James Fleming, John Phillips, Carlisle Circuit (1794-1811 inclusive) 1794, William McDowell, William Talbott, 1795 Jos. Jones, Rezin Cash; 1796 (no Carlisle but Allegany, which supports above supposition as to Carlisle being a part of Allegany) William Bishop, Thomas Curry; 1797-1798 (Carlisle) Jos. Rowen; 1799, Seely Bunn;
1800, David Stevens, Arbraham Andrews; 1801, James Smith, John Walla; 1802, James Smith, R. R. Roberts; 1803 (no Carlisle but Allegany) 1804, (Carlisle) Jacob Gruber, William Brandon; 1805, Sol Harris, Leonard Cassell; 1806, James Paynter, Jos. Carson; 1807, Jas. Hunter, Jacob Dowell; 1808, Robert Beerch, Laskey Matthews; 1809, R. B. Daniel Strasbury; 1810, (Hagerstown appears for this year only) Jas. Paynter; 1811, (Carlisle) Jas. Reid, Peter Beaver, R. Wilson, Chambersburg Circuit 1812-1821 – 1812, R. Wilson; 1813, Jas. Reid, George Askin; 1814, George Askin, N. B. Wills; 1815, Robert Wilson, W. P. Larkin; 1816, R. W. George Brown; 1817, Hamilton Jefferson; 1818, H. J. Frederick Steir; 1819, Caleb Reynolds, James Paynter; 1820, C. R., William Monroe; 1821, Edward Matthews, R. Buckingham, Hagerstown Station, 1822, John Emery. Hagerstown Circuit, 1823, James M. Hanson, Samuel Clarke; 1824, J. M. H., John L. Gibbons; 1825, James Reed, C. B. Young; 1826, J. R., Robert Barnes; 1827, Has. Reiley, Samuel Kepper; 1828, J. R., George Hildt; 1829, Edward Smith, Basid D. Higgins: 1830, E. S., J. M. Brent; 1831-32, Henry Smith and Robert S. Vinton; 1833, James Sewell, F. M. MiUs; 1834, John Bear, J. H. Baker; 1835, J. B., J. Bernard. Hagerstown Station, 1836-37, Wm. B. Edwards; 1838-39, Henry Tarring; 1840-41, Jos. Merriken; 1842-43, John T. Rigdon; 1844-45, Wm. Hirst; 1846, David Steele; 1847-48, E. P. Phillips; 1849, Samuel S. Roszel; 1850-51, Wm. H. Pitcher; 1852, Henry Furlong; 1853-54, Dabney Ball; 1855-56, E. R. Veitch; 1857-58, George D. Chenowith; 1859-60, James Curns; 1861-62, 5. W. Sears; 1863-64, George W.. Hyde; 1865-66-67, J. F. Ockerman; 1868, W. M. Ferguson; 1869-70-71, Thomas Sherlock; 1872-73, J. Edwin Amos; 1874-75-76, B. G. W. Reid; 1877-78-79, A. S. Hank; 1880-81-82, John H. Dashiell, D.D.; 1883-84-85, Jos. B. Stitt; 1886-87-88, Austin M. Courtney; 1889-90, H. S. France; 1891-92, 5. M. Hartsock; 1893-94-95-96, G. C. Bacon; 1897, W. W. VanArsdale; 1898-99-1900, R. M. Moore;
1901-02, H. F. Downs; 1903-04-05, E. T. Mowbray, A. J. McKinley served during part of 1905 during illness of E. T. Mowbray, 1906, C. H. Richardson; 1907-08-09, E. T. Mowbray; 1910, R. W. Wright; 1912-13-14, C. L. Pate; 1915-21, F. R. Bayley; 1922-1927, V. N. Ridgely; 1928-33, J. M. Gillum; 1934-41, J. E. Kemp Horn; 1941-1947, Harry C. Marsh; 1947-1950, Norman L. Trott; and 1950-1963, J. Tumbull Spicknall, and Associate Stanley G. Harrell."
And more recently:
1963-1969:  F. Norman Van Brunt and Associate Frederick Smith
1969-1971:  Roger C. Elgert and Associate, Donald S. Stewart, Jr.
1971-1974:  Dr. William E. Firth, and Associate, Edward G. Grove
1974-1979:  William G. Cook, Jr.
1979-1983:  Andrew L. Gunn
1983-1987:  R. Frederick Crider, Jr. and Associate, Conrad O. Link
1987-1991:  Larry M. Plymire and Associate, John R. Yost
1991-1996:  Raymond T. Moreland, Jr.
1996-2000:  Richard W. Simpson
2000-2006:  Kenneth S. Valentine
2006 – 2012:  Richard H. Jewell and Associate Brenda Mack
2012-2013:  William Warehime, Jr.
2013 – 2017:  L. Patrick Ricker
2017 – present:  Katie O'Hern