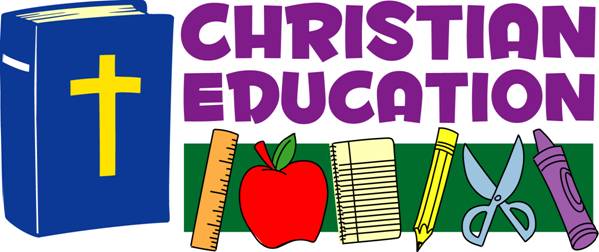 Hope you're having a good summer and have taken an opportunity to meet Pastor Katie!  As we reflect on all we discovered about God's love during our Vacation Bible School visit to "Son Treasure Island," we can anticipate great fun together at the church picnic on August 6th!  As you prepare at home for "Back-to-School," remember to pick up extra supplies when doing your school supply shopping! There is a container near the chapel door waiting for your donations. With the help of the congregation our children and youth hope to donate a lot of needed items to a local school!  At the same time, they are being encouraged to help restock the Micah's Backpack Pantry shelves and to contribute new or gently used books for children ages 0 to 12 to the annual HARC Community Book Drive.  August is definitely a month in which we can serve in our local community!
In preparation for the Fall Quarter that is fast approaching, our Christian Education Ministry would welcome teachers and/or helpers for our Children and Youth.  Please prayerfully consider joining a teaching team for Sunday School or Just Kids Church.  Our children will continue diving into the "Deep Blue" Bible adventure curriculum.  User friendly materials are provided; we need you to share your time and talents! The Nursery can always use volunteers to help with our younger children during the worship service.  If you are willing to help in any of these areas, please see Sheila.  There will be a Safe Sanctuary Training available on Sunday, August 13th at 9:00 a.m. in the regular Children's Sunday School/Just Kids' Classroom (It's air conditioned!).  If you only need to be recertified for the new program year, please stop in between 9:00 and 9:45 a.m. to pick up and/or complete your forms!  If you would like to complete Safe Sanctuary Training, and another time is better for you, please contact Sheila.
We will continue the Summer Sunday School schedule through Labor Day weekend.  Children will be dismissed to Summer Sunday School from the Worship Service usually after the first hymn. All children are welcome in the worship service, however, a nursery is available for younger children.  Our youth are encouraged to attend worship with their families.
"God Chooses Joshua" is the theme of the August study unit and includes Bible stories entitled "God Chooses Joshua," "Spies in Canaan," "Crossing the Jordan" and "Jericho." We will learn how Joshua took over leadership of the Israelites after the death of Moses and how he met God's challenges in bringing them to the Promised Land based on scriptures from the book of Joshua.  The Anchor Point for August is, "We choose to serve God."  August's  Bible verse is, "But my family and I will serve the Lord."  (Joshua 24:15)
A special thanks to everyone who participated in our Son Treasure Island Adventure and to those who have volunteered to teach or help me with Summer Sunday School!
In the depths of who I am I rejoice in God my savior. 
Luke 1:47
Miss Sheila