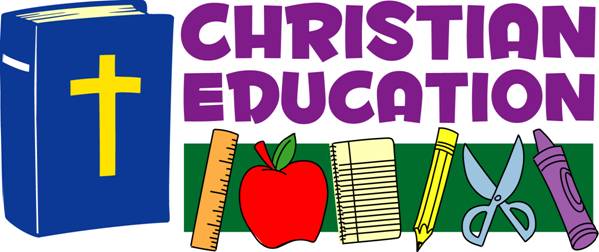 Sunday, September 10th we will be "kicking off" the fall schedule.  At 9:00 a.m. Sunday School will be offered for all ages, followed by Coffee Fellowship at 10:00 and Worship at 10:30 a.m.  Please plan to join us as we recognize all our Christian Educators during the worship service that Sunday morning. Thanks to everyone who helped with the Summer Sunday School, our Son Treasure Island VBS and Nursery programs. We would love to welcome more persons to this ministry. To grow in their faith, our children and youth need you to help them learn the Bible stories and Bible verses and the message of the Bible as a whole. Why not share your time and talents teaching or helping with a Sunday School Class or Just Kids Church or volunteering in the Nursery? The more teaching teams we can organize the better, and user friendly materials are provided!!!  Safe Sanctuary certification is required for each person involved with our children and/or youth.  If you have not already completed and returned your questionnaire and covenant agreement for the 2016-17 program year or still need to complete or update your training please see Sheila.
All our John Wesley Children are invited to set sail as we cast off at 9 o'clock on September 10th to DIVE into the DEEP BLUE for a weekly Bible adventure. Our Sunday School and Just Kids Church Classes will be using the DEEP BLUE Learn and Serve curriculum that will help our children discover what it means to be a disciple for Jesus Christ today! This year's curriculum will introduce us to friends in different parts of the world. We will learn about God and what God is doing all over the world and have some new opportunities to be a part of God's work. Don't miss a single adventure. During September all the children will start their adventure in the Chapel. All ages will have a time each week to sing with Mr. Stephen and their teachers. We ask that parents pick up their child(ren) from the Sunday School classrooms at 10 a.m. This fall children in Pre-K 4 through Grade 4 may attend Just Kids Church and will be dismissed with the teachers from the Worship Service. Younger children are welcome in the Nursery. Older children and youth are encouraged to worship with their families.
The Deep Blue study unit for Pre K through Grade 6 in September is "Judges and Kings," and our Anchor Point is "We listen to God." Our Bible adventures this month will all come from the Book of 1 Samuel as we engage in Bible Stories entitled Hannah Prays, God Calls Samuel, Samuel Anoints Saul, and Samuel Anoints David. September's Bible verse is "Speak. Your servant is    listening."  1 Samuel 3:10.
Our High School Youth will meet each week with a member of their teaching team to engage in a discussion related to that Sunday's lectionary reading(s). A shout out to our youth for the wonderful job they did helping present the Bible Stories during Vacation Bible School!
Disciples through Service:  Our children and youth will continue to be offered opportunities to serve in our church, local community, and the world.
We would like to have more trained acolytes available to assist during worship services.  If you have an interest in serving your church by being an acolyte or would like more information, please contact Pastor Katie.
During September everyone is being encouraged to join the congregation and support the Children's Community Book Drive, Holly Place and Micah's Backpack collections.
Throughout the Fall Quarter we will learn about a young boy, Carlos, who lives in Guatemala. The kids and congregation will have the opportunity to support Pura Vida, an organization that focuses on providing educational opportunities for children in rural villages through scholarships, tutoring, and support of local schools.  Pura Vida is a UMC mission, the GCFA Advance number for donations to this project is #3021094.  More information is available at https://www.umcmission.org/Give-to-Mission/Search-for-Projects/Projects/3021094.
Miss Sheila